21 Dec 2022
6 activities to do in the Champagne area
You plan to visit the Champagne region? Discover the different activities to do in Champagne area! Whether you're staying for a weekend or a few days, the area offers a wide range of activities, from the most familiar to the most unusual ones: there won't be any dull moment! Looking for some inspiration about what to do during your next stay? Here are 6 activities not to miss when in the Champagne area!
Activities to do in the Champagne area: visiting the cathedral of Reims
Reims is called the city of coronations. Quite understandably so since, through the ages, many kings of France have been crowned there in its cathedral. Not only is this magnificent building acknowledged on a national level, but it is also world-renowned.
Every year, tourists from all over the world visit this historical monument, which was destroyed during the First World War, before being rebuilt.
The cathedral's history, architectural richness, and 2,303 statues certainly make it worth a visit. That's why this monument is featured on our list of must-do activities in the Champagne area! What's more, you can go inside for free. We recommend you go up in the towers to enjoy a breathtaking panorama on the city. This ascent will also allow you to admire the architecture of the upper part of the building from up close.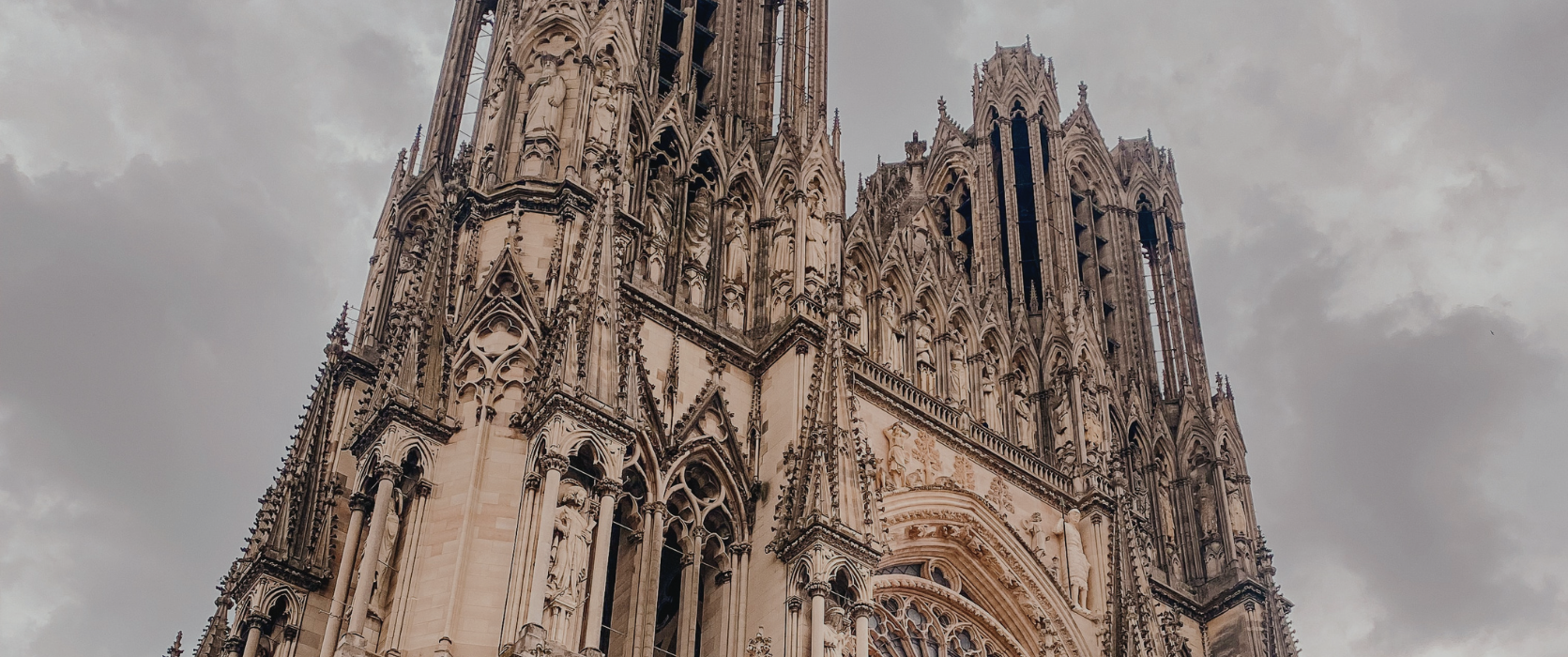 L'Assiette Champenoise
Are you a gastronomy lover? Would you like to discover unique food and wine pairings? In that case, you must absolutely stop at L'Assiette Champenoise: this 3-time Michelin-starred restaurant offers a truly unique cuisine.
Chef Arnaud Lallement, who runs the establishment, offers two signature dishes: blue lobster and langoustine from Brittany, which can be tasted in an exceptional setting. If looking for a unique sensory experience in the Champagne area, you've found the one!
Quad/buggy ride in the vineyards
Are you an adrenaline lover? Are you looking for an unusual activity to do in the Champagne area? We suggest you plan a quad/buggy ride in the vineyards.
You might have never driven a quad or a buggy before. But if you like strong sensations, you will most surely enjoy this experience combining an exhilarating sensation of speed and breathtaking views.
A quad or buggy ride will allow you to dive into the heart of the Champagne vineyard. You will be able to discover the Champagne region with your family or friends with its magnificent landscapes. You will certainly have a good time!

Admiring the Champagne area from up high in a hot air balloon
Are you looking for something unusual to do? What about taking a ride in a hot air balloon? Again, you might never have done this kind of activity. So why not make the most of your visit to the Champagne area and experience this extraordinary adventure?
Has reading "Five Weeks in a Balloon" always made you want to try flying in a hot air balloon? Don't hesitate any longer and book your first flight. Of course, it is not recommended for those who are afraid of heights. But if you're comfortable high in the sky, you will have a great time in a duo or group.
Climbing into a hot air balloon is the guarantee to enjoying a unique view of the Champagne area. You'll come back to earth filled with unforgettable memories and will obtain a flight certificate. Are you ready to take off?
Visiting the great champagne houses
Do you enjoy fine wine and champagne? If so, we recommend that you schedule a visit to at least one great champagne house. As you probably know, wine tourism is one of the area's main attractions. Every year, many tourists from all over the world visit the champagne cellars, which makes it one of the most popular activities to do in the Champagne area.
By doing so, you will be able to discover all the secrets of champagne. Indeed, during your guided tour: you will learn how champagne is made and also be able to enter cellars and explore facilities.
At the end of the visit, you will be invited to taste one of the house's cuvées. For many, this is the highlight of the tour. We highly recommend you enjoy this wine experience with family, friends or even as a couple.
You want to do wine tourism: from the visit to the tasting? Please contact us!
Visiting small producers' cellars
Finally, you could choose to visit small producers' cellars. While less known than the main champagne houses, small producers are also worth a visit. They offer a unique and no less interesting experience.
This activity will also allow you to discover all the secrets of champagne. Indeed, a guide will explain the manufacturing process and grape varieties among other things. Your private tour in the Champagne area will end by tasting at least one vintage.
Beyond these 6 suggested activities, there are many other possibilities in the Champagne area. Do not hesitate to consult Sparkling Tour's team to design a tailor-made program!